Can it really be week 3 already? Wasn't I just waiting impatient

l

y for Christmas? Why didn't time go this fast when I was a child counting down days until

summer vacation? =)
Any who, another week me

an

s i

t

's time for 52 Weeks again. This week one

of

my acts of kindness w

as

to s

end

my Great Aunt Rita a hand-written letter to tell her that I was thinking of her. I even made sure to take my time and wri

t

e neatly. My fourth grade teacher would be so proud! haha
I also supported my very good friend in her fundraising effort for Special Olympics

, by making a donation

. If you would like to help out some great kids, you can do so here!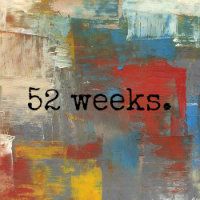 I hope everyone has a wonder

f

ul weekend. If you

have some time, stop by
My Three Bittles and check out what others have been up to

with their

52 Weeks project. It is an inspirin

g read to hear all the happiness being shared!