Hello Friends! As promised here is my 2013 goals post.
I have a hard time with resolutions; I don't think my brain takes that word seriously. I totally buy into the big joke that

the whole point of a

resolution

is to just break

it

before the end of January. This year I am opting for Focus Point and Goals… we'll see if I can't trick this old brain into action!

Focus Points:
Healthier Me – This year I am not setting a weight loss goal. In all my years of dieting and struggling, I have finally begun to realize that a specific number on the scale is not nearly as important as feeling and performing at my body's best. I just want to feel better and have more energy. My plan to get there is to tackle the Whole30 program this month. I know if I can just keep at it for 30 days, the improvements will be enough to keep me choosing healthier going forward. I also have an exercise regiment all worked out and posted on my desk… eating good is only half the solution. Time to get myself moving more too!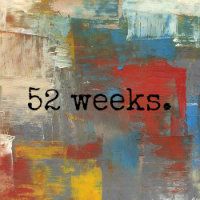 Acts of Kindness – Amber at My Th

r

ee Bittles is starting a

n awesome

blog hop for the year called 52 Weeks. She has set a goal to accomplish one act of kindness a week for the next 52 weeks. That's a year of good deeds! She invites us all to join her each week and share our acts of kindness and love... changing the world one deed at a time!

I am planning on joining, and hope that some of you will too.
Family Fun Time – Now that little bear is three, I've found that getting out of our routine and going to new places is a thrill for all of us. It is so much fun to experience things through his eyes. Since we live about 30 minutes from Downtown Chicago, I'd like to take better advantage of all that the city has to offer. We've lived here for 3 plus years and have just barely scratched the surface of the City. This year I would like to change that, and at the same time build some great family memories that my little bear will be able to carry with him. We'll explore our city, and build our family relationships… can't argue with that!
Blog Improvements – I have been working on this blog

f

or just over two months now. While thoroughly enjoying the process, I feel like I can and should be doing more. Now that I have gotten a feel for the work and process, I'd like to start offering better content and more original posts. I'd also like to work in more of my own graphics and photos... which will be another learning experience. As always, there is still more room to grow!
2013 Goals:

1. Complete Whole30 Program
2. Exercise at least 4 times a week
3. Monthly trips into the City for Family Fun
4. Be more present with Hubs and Little Bear
5. Expand charitable acts to more than just giving $$
6. Write more quality articles for blog
7. Clearly define and refocus Point of View
8. Start a Not Done Growing Hop or Link Party

I am looking forward to continuing my journey this year, and am so happy to have the help and support from my readers. Feel free to leave a comment, I'd love to hear what your goals and focus areas are for the year!