Hello Friends! We made it to another weekend. I am linking up again with Friday's Letters over @ Adventures of Newlyweds. Let the letter writing begin

: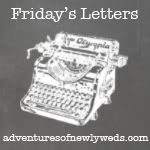 Dear Work - I'm going to be taking a little three day break starting today. It

's not that I don't enjoy work, I just enjoy not working better.
Dear Day Care - Thank you for having your

Halloween

party today. I had one very happy and excited Batman to drop off this morni

ng

.
Dear Little Girl in my Son's

C

lass - You rock the Spiderman look. Thank you for showing my son that girls can TOO l

ike super heros!
Dear Me - Happy Birthday

!

D

on't worry about how many years have passed, or how quickly that new decade is approaching.

J

ust enjoy the here and now!
Happy Friday!
Holly