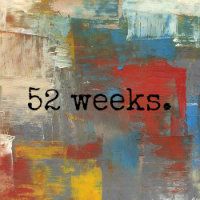 Happy Friday All! I hope that your week ha

s b

een fulfilling and happy.
Friday means that it is time for my 52 Weeks of kindness post. D

o

n't forget to head over to My Three Bittles to see what Amber and

everyone else has been up to this week.
This week was spent on the road again at my mom's. Before I hit the road though, I decided to treat my son's day care class to a little treat. I would have loved to bake something for them, but that is actually against the rules at his day care. Something to do with getting federal funding for their food programs or something, so all our treats have to be store bought and in their original packag

es. Fun times.
W

e went with the next best thing, Lofthouse Sugar

Cookies.

These are always a big hit in my house - soft, chewy goodness. Plus they stay fresh for a decent # of days... of course they tend to not l

a

st long in th

is house.
The little ones were all pretty happy, and my little bear got to be a rock star for the day!

ha-ha

Made me having to leave him at home a litt

l

e easier th

is week.
Have a great weekend!
Looking to grow your blog? I have Sponsor Spots open this week - priced to fit any budget, including FREE! Hop over to my sponsor page for more details.