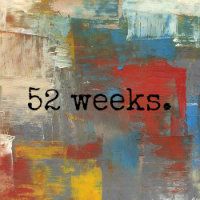 Happy Happy Sweeties! I am glad that it is Friday today. This week I was lucky to keep my head above the water...

seriously

this was one of those weeks whe

re I was just not on my game. Oh well, here's to a better weekend! =)
My 52 Weeks Random Act of Kindness was once again kind of sad. To tell the truth I was lucky to get dinner on the table each day, so not much thought went into it. To make up for it I am going to do a blog shout out for one of my sp

onsors!
This pretty lady is Karrie, who blogs over at I Know This Much Is True. She has been hanging out in my sidebar for just about a month

now. If you have not had a chance to check out
I Know This Much Is True, then what are you waiting for!

=)
Karrie is a mom, an RN, and a fellow EMU grad! The funny thing is that we literally missed each other by a semester. So funny how small this

blog world can be.
Any who, Karrie's blog really is a breath of fresh air. She is open and honest, and has a natural writing style that makes you feel comfy and cozy like at a good friend's house. Here are a few of my fa

vorites:
I really do hope you head over and ch

eck out
I Know This Much Is Tru
e, you won't be

disappointed

!
Have a wonderful weekend. Don't forget to check out all the other acts of kindness over at My Th

r

ee Bittles today.
Looking to grow your blog? I have Sponsor Spots open this week - priced to fit any budget, including FREE! Hop over to my sponsor page for more details.