Ah Fri

d

ay, welcome my old f

r

iend, welcome!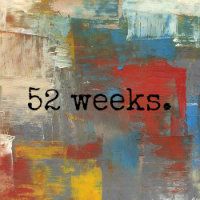 This week for my random act of kindness I left a Starbucks gift card for our mailman. The poor man has to come to our porch day after day, and every day he hears my crazy dog on the other side of the door go

i

ng absolutely insane. Then she runs out to the back ya

r

d and barks at him as he walks by the fence.
I cannot get that dog to not attack the door for any sort of delivery person - mail, UPS, or FedEx. She hates them all. I know she is just being protective of her turf, but really? She will sit up and growl if the UPS truck just drives by the house. How on earth can she hear the difference

between the other trucks?
Maybe next week I should bake him cookies too. Don't forget to check out the other great acts of kindness @ 52 Weeks today.
I hope you all have a wonderful

weekend!