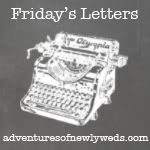 Dear Little Bear - Thank you so much for all the songs and entertainment you pro

v

ide as I drag you from errand to errand aft

e

r school. I'm pretty su

r

e all the strangers smil

i

ng as we pass want to say Thank You too! You are a

moment

of s

u

n shine in all of our days

.
Dear Mom - You were right, the grommet curtains rock! They open and close so wonderfully. Now stop talking about getting some for your

room and GO GET THEM ALREADY!
Dear

Weekend - FINALLY, let's get our fun on.
I h

ope you all have a great weekend!