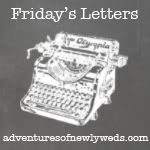 Happy Friday! Welcome to another round of Friday's Letters!
Dear Hubs - I miss you and can't wait until the little bear and I are home on Sunday.
Dear Mom (aka Grandma to Little Bear) - Thanks for letting us come and stay... I could sit and listen to you and the little bear talk all day!
Dear Rita (our dog) - I can't beleive how much help you are at home cleaning the food that little bear drops on the floor. I think Grandma needs a dog in her house too!
Dear Everyone - I hope you all have a great weekend!